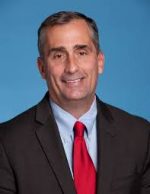 Long Business Description
Brian Matthew Krzanich (born May 9, 1960) is the Chief Executive Officer of Intel. He was elected CEO on May 2, 2013, concluding a six-month executive search after incumbent CEO Paul Otellini announced his resignation in November 2012. Krzanich assumed the role of CEO on May 16, 2013 at the company's annual general meeting.Before becoming CEO, he was Intel's Executive Vice President and Chief Operating Officer.
Krzanich earned a bachelor's degree in chemistry from San Jose State University and holds a patent for semiconductor processing. He joined Intel in 1982 in New Mexico as an engineer. He was promoted to CEO in January 2012.He often visits Intel-sponsored hackathons and Best Buys with his wife and two daughters.
Controversies:
On June 1, 2016, Krzanich cancelled a fundraiser at his home for Republican presidential candidate Donald Trump after the New York Times asked Intel that day for details about the event, originally scheduled for June 2, 2016.The invitation to the event was sent by Republican National Committee Chairman Reince Priebus and was also going to feature Steven Mnuchin and Elliott Broidy. A spokesperson for Intel told the New York Times that the fundraiser would include "a full exchange of views" before Krzanich announced on Twitter that he did not intend to endorse a candidate and was interested in engaging both the Trump and the Clinton campaigns in dialogue about technology issues. A spokeswoman for the Trump campaign said the event was cancelled due to a scheduling conflict, and Trump held a rally in San Jose on June 2.The fundraiser was widely seen as incongruous with Intel's support for immigration reform and US$300 million effort to attract women and minorities, as well as detrimental to the company's interests in China, the biggest market for the semiconductor industry.