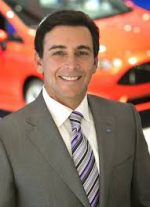 Long Business Description
Mark Fields (born January 24, 1961) is an American businessman and has been the President and Chief Executive Officer of Ford Motor Company since July 1, 2014. Fields served as chief executive officer of Mazda from 1999 to 2002 during the period when Ford controlled Mazda, and was the chief operating officer for Ford Motor Company. Prior to that, as Ford's President of the Americas, Fields developed "The Way Forward" plan. He succeeded Alan Mulally as the company's President and CEO. Fields is the first Jewish CEO of a Detroit Three automobile manufacturer.
Early life, education, and family:
Fields was born in Brooklyn, New York to Gerald S. Fields, a purchasing manager, and Elinor Fields. Fields is of Romanian Jewish and Russian Jewish descent, and the Fields family original name was Finkelman. Fields grew up in Paramus, New Jersey, where he attended Paramus High School, graduating in 1979. Fields holds a Bachelor's degree in Economics from Rutgers University and a Masters in Business Administration from Harvard; he worked for IBM prior to earning his MBA. He is married to Jane Fields and has two sons, Max and Zach Fields. During his tenure at Mazda, Fields was the first Jewish CEO of a major automobile manufacturer outside of France.
Career in business:
Fields was recruited by Ford in 1989 and moved up the ranks. He ran Ford's Argentina operations at the age of 36. He became the youngest person (at 38) ever to run a major Japanese company when Ford placed him in charge of Mazda Motor Corporation in 1998. In 2002, Fields became chairman of the Premier Automotive Group, Ford's luxury unit which at the time included Lincoln, Aston Martin, Jaguar, Land Rover and Volvo Cars. He returned to the United States to head the Americas division of the company in October 2005. In a December 14, 2006, announcement made by Alan Mulally (Chief Executive of Ford Motor Company), Mark Fields, at 45, was named business unit chief of Ford Motor Company's Americas operations. This is an attempt to make the company leaner and more centrally driven in areas such as product development, purchasing and engineering.
On November 1, 2012, Ford announced the appointment of Fields as its new chief operating officer. He was named the President and CEO of Ford effective July 1, 2014, succeeding Alan Mulally.