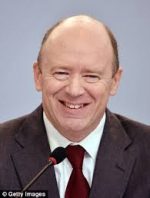 Long Business Description
John Michael Cryan (born 16 December 1960) is a British businessman and co-chief executive of Deutsche Bank AG in Frankfurt am Main, since 1 July 2015.
Early life:
John Michael Cryan was born in Harrogate on 16 December 1960. He is a graduate of the University of Cambridge.
Career:
Cryan worked for Arthur Andersen and then joined S.G. Warburg in London in 1987, before he was appointed group chief financial officer at UBS AG in September 2008. Cryan was head of UBS's financial institutions group. In the autumn of 2008, he advised the UBS Board of Directors and the Group Executive Board on the financial crisis.
In 2011 Cryan left UBS for personal reasons. In January 2012, he joined Singapore's investment company Temasek as president for Europe.
He is a non-executive director of Man Group since January 2015.
Cryan was appointed co-chief executive officer of Deutsche Bank in June 2015. He will share the position with Jürgen Fitschen until May 2016.
Personal life:
Cryan and his wife Mary purchased a home in Annapolis, Maryland, US, in 2009. They have a home in London as well, and no children. He speaks German fluently.