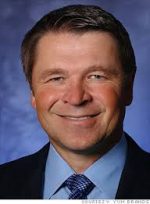 Long Business Description
David Colin Novak (born 1953) is an American businessman. He is the executive chairman of YUM! Brands Inc.
Biography:
Background:
Novak received a bachelor's degree in journalism from the University of Missouri and was a member of the Delta Upsilon Fraternity. He served as an account supervisor on Frito-Lay products (Doritos and Tostitos) for Tracy-Locke Advertising in Dallas, TX before becoming the VP of all F-L products at the agency. Novak is a Christian and has been a member of Southeast Christian church.
Career:
Novak served as Yum! Brand's chief executive officer (CEO) from 1999 - January 1, 2015. He served as Chief Operating Officer of Pepsi-Cola North America, and Executive Vice President of Marketing and National Sales for the Pepsi-Cola Company.
Novak is credited with the invention of Crystal Pepsi.
Novak has been an Independent Director of JPMorgan Chase & Co. since 2001. He also serves as a Director of Bank One Corporation. He was named 2012 Chief Executive of the Year by Chief Executive magazine.
In 2016, Novak launched OGO (O Great One!]) Enterprises, the "world's first recognition brand" on a mission to convince people of the usefulness of recognizing what others have done and close what he has dubbed the "global recognition deficit."
Publication:
Novak, David C. (2012), Taking People with You, Portfolio Hardcover, ISBN 1591844541
Novak, David C. (2016), O Great One! A Little Story About the Power of Recognition, Portfolio Hardcover, ISBN 0399562060