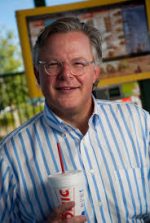 Long Business Description
J. Clifford Hudson (born 1954, Dallas) is an American business executive best known for serving as chairman of the board and chief executive officer of Oklahoma City-based Sonic Corp. He also serves as a trustee of the Ford Foundation and was a past chairman of the board of the National Trust for Historic Preservation.
Personal life:
Hudson is a graduate of the University of Oklahoma and Georgetown University Law Center. He is married to Dr. Leslie Hudson, a public health professional and former associate professor at the University of Oklahoma, with whom he has two sons. In his spare time, he has been a member of the Sonic Tones, an eight-member band made up of senior executives of the Sonic Corporation, which competed in the 2003 Battle of the Corporate Bands at the Rock and Roll Hall of Fame and Museum in Cleveland, Ohio.
Career:
After graduating from law school, Hudson practiced law. After several years as a practicing attorney he was hired as the head of the legal department for Sonic Corp in 1984. He became president and chief executive officer in 1995, and was named chairman in January 2000. During his tenure, the company has grown from a nationwide total of 1,428 locations in 1995 to more than 3,500 today, with locations in 43 of the 50 US states. In addition, average drive-in sales have increased by 65% and system-wide sales from $880 million to $3.5 billion. The company's enterprise value has grown from approximately $200 million to more than $1.0 billion.
Philanthropy:
Hudson is a member of the board of trustees of the Ford Foundation and is a past chairman of the National Trust for Historic Preservation. He is also chairman of Georgetown University Law Center's Board of Visitors and has served as chairman of the Oklahoma City Public School Board of Education. In 1994, he was appointed by President Bill Clinton to serve as chairman of the Board of the Securities Investor Protection Corporation, and served until 2001. In addition to this he has served on numerous boards related to Oklahoma City including MAPS for Kids—a $700 million school revitalization program. From 1999 through 2008, Hudson was engaged in a rebuilding plan and turnaround effort of the Oklahoma City Public Schools in which he co-chaired the MAPS for Kids campaign. Hudson has also presented the city's schools substantial monetary contributions of his own, including $500,000 toward a rehabilitation of the auditorium at Northwest Classen High School, his alma mater.
Awards and Honors:
Hudson received the 2004 Silver Plate - Foodservice Operator of the Year Award from International Foodservice Manufacturers Association, and the 2000 Multi-Unit Foodservice Operators (MUFSO) Golden Chain Award from Nation's Restaurant News. He has been a guest on various national business programs including CNBC's Mad Money, Squawkbox and Power Lunch, as well as various Bloomberg news programs. In 2009, he was placed on the Foundation for Oklahoma City Public Schools Hall of Fame for his longstanding service. In 2001 Hudson received the University's Regents Award from the University of Oklahoma and, in 2011, the University of Oklahoma conferred to him an honorary doctorate degree in humane letters as a "civic leader and supporter of education".