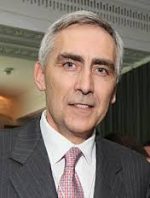 Long Business Description
Peter Löscher (born 17 September 1957 in Villach, Austria) is an Austrian manager and former president, Global Human Health at global pharmaceutical company Merck & Co. He was appointed chief executive officer (CEO) of Siemens AG on 20 May 2007 as the successor of Klaus Kleinfeld, and was selected to take on the new position on 1 July 2007. He was the first top executive in the 160-year history of Siemens to be hired from outside the company.
Education:
Peter Löscher graduated from Gymnasium Villach/Austria in 1978 and got a master's degree at the Vienna University of Economics and Business Administration. Later he attended but did not obtain a degree from an MBA program at the Chinese University of Hong Kong and the Advanced Management Program (AMP) at Harvard University. In 2007 he received the honorary degree of Doctor of Engineering from Michigan State University.
Professional career:
From 1988 until 2000 he worked for the German pharmaceutical company Hoechst in Spain, Japan, Great Britain and the United States. After Hoechst merged with Rhone-Poulenc he stayed at Aventis until 2002. He then joined Amersham, which was taken over by General Electric. In 2006 he became a member of the executive board of the US pharmaceutical company Merck.
Löscher became the first CEO of Siemens AG to be appointed from outside the company in 2007. He was replaced by Joe Kaeser (Josef Käser) as CEO and left Siemens in July 2013.
Personal life:
Peter Löscher speaks German, English, French, Spanish, and Japanese. He and his Spanish-born wife have three children. According to an interview in the New York Times, Löscher was the captain of the volleyball team at high school and college.