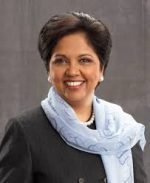 Long Business Description
Indra Krishnamurthy Nooyi ( born 28 October 1955) is an India-born, naturalized American, business executive and the current Chairperson and Chief Executive Officer of PepsiCo, the second largest food and beverage business in the world by net revenue. She has consistently ranked among the World's 100 Most Powerful Women. In 2014, she was ranked 13 in the list of Forbes World's 100 most powerful women.
Early life and career:
Nooyi was born to a Tamil-speaking family in Madras (now known as Chennai), Tamil Nadu, India. She was educated at Holy Angels Anglo Indian Higher Secondary School in Madras. She received bachelor's degrees in Physics, Chemistry and Mathematics from Madras Christian College in 1974 and a Post Graduate Diploma in Management (MBA) from Indian Institute of Management Calcutta in 1976. Beginning her career in India, Nooyi held product manager positions at Johnson & Johnson and textile firm Mettur Beardsell. She was admitted to Yale School of Management in 1978 and earned a master's degree in Public and Private Management. While at Yale, she completed her summer internship with Booz Allen Hamilton. Graduating in 1980, Nooyi joined the Boston Consulting Group (BCG), and then held strategy positions at Motorola and Asea Brown Boveri.
PepsiCo executive:
Wikinews has related news: PepsiCo names Nooyi CEO as Reinemund retires
Nooyi joined PepsiCo in 1994 and was named president and CFO in 2001. Nooyi has directed the company's global strategy for more than a decade and led PepsiCo's restructuring, including the 1997 divestiture of its restaurants into Tricon, now known as Yum! Brands. Nooyi also took the lead in the acquisition of Tropicana in 1998, and the merger with Quaker Oats Company, which also brought Gatorade to Pepsi Co. In 2006 she became the fifth CEO in Pepsi Co's 44-year history. She was named as the 3rd Most Powerful Woman in Business by Fortune in 2014.
Since she started as CFO in 2001, the company's annual net profit has risen from $2.7 billion to $6.5 billion.
Nooyi was named on Wall Street Journal's list of 50 women to watch in 2007 and 2008, and was listed among Time's 100 Most Influential People in The World in 2007 and 2008. Forbes named her the #3 most powerful woman in 2008. In 2014, she was ranked #13 by Forbes.Fortune ranked her the #1 most powerful woman in business in 2009 and 2010. On 7 October 2010 Fortune magazine ranked her the 6th most powerful woman in the world. In Fortune's Most Powerful Women List of September 15, 2015, Nooyi ranked 2nd.
Nooyi's strategic redirection of her company has been largely successful. She reclassified Pepsico's products into three categories: "fun for you" (such as potato chips and regular soda), "better for you" (diet or low-fat versions of snacks and sodas), and "good for you" (items such as oatmeal). Her initiative was backed up with ample funding. She moved corporate spending away from junk foods and into the healthier alternatives, with the aim of improving the healthiness of even the "fun" offerings. In 2015, Nooyi removed aspartame from Diet Pepsi, furthering the shift towards healthier foods.