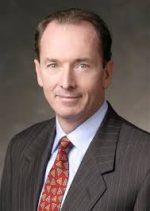 Long Business Description
James P. Gorman is Chairman and Chief Executive Officer of Morgan Stanley. He was formerly Co-President and Co-Head of Strategic Planning at the firm.
Business career:
James P. Gorman joined Morgan Stanley in February 2006 as the President and Chief Operating Officer of the Global Wealth Management Group (GWMG). In October 2007, Gorman took on the additional role of Co-Head of Strategic Planning with Chief Financial Officer Colm Kelleher. In December 2007, he was named Co-President of Morgan Stanley, along with Walid Chammah, with the day-to-day responsibility for Wealth Management and Asset Management. In September 2009, it was announced he would become CEO of Morgan Stanley in January 2010. He also assumed the title of Chairman in January 2012 following the retirement of John J. Mack. Press reports indicate his compensation as Chairman and CEO was $9.75 million for 2012, with the New York Times reporting an increase to $18 million in 2013.
In 2009, he helped create the largest wealth management platform globally when he led the merger and integration of Morgan Stanley's wealth management business with Citi's Smith Barney business. Structured as a staggered acquisition, Morgan Stanley purchased the remainder of the joint venture in June 2013, and is a global leader in wealth management with over 16,000 financial advisors and $1.8 trillion in client assets.
Prior to joining Morgan Stanley in February 2006, Gorman held a succession of executive positions at Merrill Lynch, including leading from 2001 to 2005 the company's U.S. and, subsequently, global private client businesses. He joined Merrill Lynch in 1999 as Chief Marketing Officer, and also served as head of Strategy and Research. Before joining Merrill Lynch, Gorman served as a senior partner of McKinsey & Company, where he was a member of the financial services practice, and as an attorney in Melbourne.
In 2014 he was included in the 50 Most Influential ranking of Bloomberg Markets Magazine.
Personal life:
A native of Australia, Gorman attended Xavier College, and earned his Bachelor of Arts and Bachelor of Laws from the University of Melbourne, where he was a residential member and president of Newman College. In 1982 he joined law firm Phillips Fox and Masel (now DLA Phillips Fox) before heading to the United States to obtain a Master of Business Administration from Columbia Business School. While at Columbia he was a resident at International House of New York.
Among his civic activities, Gorman serves on the Federal Advisory Council to the U.S. Federal Reserve Board, the Board of Overseers of the Columbia Business School, the Monetary Authority of Singapore International Advisory Panel, the Financial Services Forum, the Boards of the Partnership for New York City, and the Institute of International Finance. He formerly co-chaired the Business Committee of the Metropolitan Museum of Art and served on the board and as Chairman (2006) of the Securities Industry and Financial Markets Association in Washington, D.C..
Gorman lives on the Upper East Side of Manhattan, with his wife of over 20 years, Penny, and their two children. His daughter Caroline Gorman is in the band Madness and the Film.