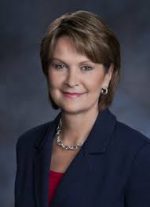 Long Business Description
Marillyn A. Hewson (born c. 1954) is Chairwoman, President and Chief Executive Officer of Lockheed Martin. In 2015, Hewson was named the 20th most powerful woman in the world by Forbes.
Early life:
Hewson was born in Junction City, Kansas. She earned her Bachelor of Science degree in business administration and her Master of Arts degree in economics from the University of Alabama. She also attended the Columbia Business School and Harvard Business School executive development programs.
Career:
Hewson joined Lockheed Martin in 1983. She has held a variety of increasingly responsible executive positions with the company, including President and Chief Operating Officer, and Executive Vice President of Lockheed Martin's Electronic Systems business area. On November 9, 2012 she was elected to Lockheed Martin's Board of Directors. She has been the CEO since January 2013. She also serves on the Board of directors for Sandia National Laboratories since 2010 and DuPont since 2007. Since becoming CEO in 2013, Lockheed's market cap has doubled.
In July 2015, Hewson announced the purchase of Sikorsky Aircraft, the producers of Sikorsky UH-60 Black Hawk helicopters, giving Lockheed its own helicopter building capability. Hewson has also shifted more company efforts towards building military hardware.
In 2010, 2011, 2012, and 2015 she was named by Fortune magazine as one of the "50 Most Powerful Women in Business". In the September 15, 2015 issue of Fortune magazine, Hewson was ranked 4th. She was named the 21st most powerful woman in the world by Forbes in 2014. She rose one spot to the 20th most powerful woman in the world in Forbes' 2015 ranking.