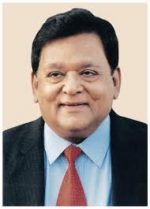 Long Business Description
Anil Manibhai Naik(born June 9, 1942) is the Group Executive Chairman of Larsen & Toubro Limited, an Indian engineering conglomerate.
He was awarded the Padma Bhushan, India's 3rd highest civilian award, on January 26, 2009. Naik was also the recipient of the 'Economic Times Awards-Business Leader of the Year' award, for the year 2008.
Early life and Career:
Naik comes from Endhal, a village in South Gujarat, and belongs to a family of teachers. He graduated with a bachelor's degree in mechanical engineering from Birla Vishvakarma Mahavidyalaya Engineering college in Vallabh Vidyanagar in Gujarat.
After graduation, he went to Bombay with a note from his father introducing him to Viren J. Shah working in Mukand Iron & Steel Works Limited to apply for its engineering programme. Due to his lack of proficiency in English, the personnel manager had asked him to improve his English. So Mr. Naik started working on his English skills. In the meantime, he joined Nestler Boilers, which was a Parsi-owned firm.
His career growth in Nestor Boilers was arrested by changes in ownership and management style and hence, once again, he was job hunting in 1965.
On March 15, 1965, Naik joined L&T, as a junior engineer. He was promoted as general manager in 1986. In 1999, he became the chief executive officer and managing director. And in 2003, he was appointed as chairman of Larsen & Toubro Ltd.
He is currently developing the educational institution set up by his father in a region called Kharel, Gujarat.2009.
He is currently the chairman of Indian Institute of Management, Ahmedabad.
A.M. Naik has been married to Geeta Naik for over 50 years. He has two children who both live in the United States of America. His daughter is a pediatrician who is married and has two children. Naik's son also lives in the United States with his wife.
Awards and Honors:
- Honorary Consul General for Denmark.
-  Senior member of the Confederation of Indian Industry.
-  Member of the Board of Trade, Ministry of Commerce, Government of India.
-  Fellow of the Indian National Academy of Engineers.
-  Member of the Board of Governors of the Indian Institute of Management, Ahmedabad.
-  Received the Special Award for Business Leader of the Year – Building India from the TV channel, NDTV Profit.
-Recipient of Gujarat Garima Award 2009. Awarded on 22 January 2009
-Recipient of Lakshya Business Visionary Award. Awarded by National Institute of Industrial Engineering (NITIE), Mumbai.
-Received 'Asiua Business Leader Award' for 2010 by CNBC Asia.
- Received 'CNBC Asia — Outstanding Business Leader' Award for 2010.
- Conferred 'Doctor of Letters' (Honoris Causa) by the Sardar Patel University on 15 December 2011
-  He is nominated as the Chairman of the IIMA (IIM Ahmedabad) Society and the Board of Governors, for a period of three years starting March 28, 2012
-  Honorary doctorate from Gujarat Technological University on 19 January 2013.