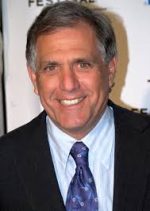 Long Business Description
Leslie Roy Moonves ( born October 6, 1949) is Chairman of the Board, President, and Chief Executive Officer of CBS Corporation.
Moonves served as Co-President and Co-Chief Operating Officer of Viacom, Inc., the predecessor to CBS Corporation, from 2004 until the company split on December 31, 2005. Prior to that time, he had been in a series of executive positions for CBS since July 1995. Moonves has been a Director at ZeniMax Media since 1999.
Moonves became Chairman of CBS in February 2016.
Early life:
Moonves was born to a Jewish familyin New York City, the son of Josephine (Schleifer) and Herman Moonves, and grew up in Valley Stream, New York. He attended Valley Stream Central High School and went to Bucknell University, graduating in 1971. In his sophomore year he switched his major from pre-med to Spanish and acted in a few plays; following graduation in 1971 he moved to Manhattan to pursue a career as an actor, but after he played a few "forgettable" TV roles he decided to pursue the business side of television instead.
Business career:
Moonves had upper management experience early in his business career. He was in charge of first-run syndication and pay/cable programming at 20th Century Fox Television. Also at 20th Century Fox Television he was vice president of movies and mini-series. Other positions included vice president of Development at Saul Ilson Productions (in association with Columbia Pictures Television) and development executive for Catalina Productions.
Acting career:
In his early career, Moonves was an actor. He landed a few television roles, playing tough guys on Cannon and The Six Million Dollar Man before deciding on a career change. He also worked as one of casting director Caro Jones' first office assistants early in her career.
On April 7, 2003, Moonves portrayed himself in an episode of The Practice.
From early 2004, Moonves has made regular contributions to Late Show with David Letterman. One of these appearances was provoked by Letterman himself when he declared outrage that Jay Leno was featured prominently on the CBS website in an ad for CBS' telecast of the People's Choice Awards. On the Late Show, Letterman jokingly warned the "CBS stooge in the control room" to call his buddies "before things turn ugly." Moonves obliged. Later appearances have taken the same format, with Letterman discussing current events and the CBS network with the company's CEO.
On the March 23, 2015 premiere episode of The Late Late Show with James Corden, Moonves portrayed himself as the head of CBS, who then sends out a golden ticket that will grant whoever finds it a chance to host the Late Late Show, in an homage to Charlie and the Chocolate Factory. Moonves would also appear on the first episode of The Late Show with Stephen Colbert on September 8, 2015. During this episode, Moonves was repeatedly shown with a giant switch which he could use to switch the network to reruns of The Mentalist (as CBS had aired reruns of scripted dramas in the 11:35 pm time slot over the summer between the final episode of the Late Show with David Letterman and the premiere of The Late Show with Stephen Colbert) if he was dissatisfied with Colbert's performance (which he did, briefly, twice during the show).