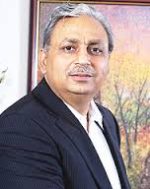 Long Business Description
CP Gurnani is the CEO and the Managing Director of Tech Mahindra
Biography:
CP played a pivotal role in the transformational journey of Mahindra Satyam and spearheaded the company's eventual merger with Tech Mahindra.
Gurnani has been appointed as Nasscom's chairman in April, 2016.
With extensive experience in international business development, start-ups and turnarounds, joint ventures, mergers and acquisitions, CP in many ways led Tech Mahindra's journey, where he contributed significantly to the company's strategy and philosophy. His inimitable style of leadership, combined with his sharp focus on customer experience, helped Mahindra Satyam and Tech Mahindra emerge as one of the leading providers in their respective competencies - IT Services and Telecom Solutions to the global telecom ecosystem.
In a career spanning 32 years, he has held several leading positions with HCL Hewlett Packard Limited, Perot Systems (India) Limited and HCL Corporation Ltd. He is a chemical engineering graduate from the National Institute of Technology, Rourkela.
Awards and Honors:
CP has been chosen as the Ernst and Young 'Entrepreneur of the Year [Manager]', CNBC Asia's 'India Business Leader of the Year' and Dataquest 'IT person of the Year' - for the year 2013.
CP has also won the 'CEO of the Year' Award for year 2014 declared by Business Standard.
Early life and Education:
CP was born (December 19, 1958) in Neemuch, a small town in Madhya Pradesh and spent his early life in Chittorgarh, Kota, and Jaipur in Rajasthan. He has a degree in chemical engineering from the National Institute of Technology, Rourkela.