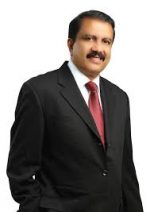 Long Business Description
Born            : April 15, 1953 (age 63), Kalpakancheri
Spouse         : Nazeera Azad
Net worth    : 1.46 billion USD (2015) Forbes
Residence    : Dubai, United Arab Emirates
Parents        : Ahmed Unni Moopen
Education    : Calicut Medical College
Azad Moopen (born 15 April 1953 in Kalpakancheri, Kerala) is an Indian physician and philanthropist, and a developer of healthcare facilities in Asia-Pacific. He is the chairman and managing director of Aster DM Healthcare, a healthcare conglomerates in the Middle East and India founded in 1987. In 2010 and 2011, he was awarded the Pravasi Bharatiya Samman and Padma Shri by the Government of India, respectively.According to Forbes, he is ranked 6th in the Top 100 Indian Leaders in UAE list, and according to Arabian Business, 29th in the 50 Richest Indians in the GCC, with the total wealth estimated to approximately $1.1 bln Forbes 2015).
Career:
In 1982, he started his career at the Calicut Medical College, where he served as a Medical Lecturer for five years before moving to Dubai in 1987. There he starting a single doctor practice at his own clinic. Over the last 26 years, he established a chain of healthcare facilities in West Asia with 175 unit hospitals, poly clinics, pharmacies and diagnostic centers in UAE, Qatar, Oman and Saudi Arabia. His firm, Aster DM Healthcare employs about 10,000 people in the Middle East, and serves more than 7 million patients a year.
Healthcare development in India:
Dr. Azad has been involved in the development of healthcare facilities in India. MIMS hospitals directly employ about 3,000 people.
He participated in establishing the 600-bed tertiary care Malabar Institute of Medical Sciences (MIMS) hospital at Kozhikode in Kerala in 2001. This was the first multi-specialty hospital in India to receive National Accreditation Board for Hospitals & Healthcare Providers accreditation in 2007. The second 150-bed MIMS hospital was set up at Kottakkal in Malappuram district in 2009.
MIMS Charitable Trust under his leadership established a rural health centre at the backward Vazhayur Panchayat near Kozhikode in 2008 and adopted 7,000 BPL members for comprehensive free out-patient and in-patient care. The trust is adopting the BPL population in the three wards around MIMS in the Corporation of Kozhikode and also plans to conduct a breast and cervical cancer screening program.
Awards and recognitions:
The following is the list of awards and recognitions received by Dr. Moopen:
    Padma Shri Awards by the Government of India(2011)
   Pravasi Bharatiya Samman by the Government of India (2010)
  Arab Health Award for "Outstanding Contribution of an Individual to the Middle East Healthcare Industry" (2010)
  Best Doctor Award by the Government of Kerala (2009)
Dubai Service Excellence Award (2004) by the Government of Dubai, United Arab Emirates for the Group
  Kerala Ratna Award by Keraleeyam presented by Shri K G Balakrishnan, Hon. Chief Justice of India, in New Delhi (2008)
Aslam Kshema Award by Kshema Foundation for outstanding effort to help economically deprived people (2009)