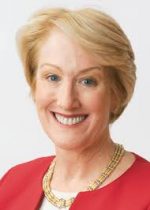 Long Business Description
Full Name       :          Anne M. Mulcahy
Born                :          21st - Oct - 1952
Zodiac Sign     :          Libra
Birth Place      :          Rockville Centre, New York
Country           :          USA
Education       :          Marymount College Tarrytown
Occupation     :          CEO
Industry          :          Technology
Networth        :          $26 Million
Anne M. Mulcahy rose to the helm of affairs at Xerox during a critical time when Xerox was on the verge of bankruptcy. Her grit and determination steered the sinking ships to reach new highs. Her no nonsense approach won her accolades and a dedicated workforce that was ready to give it all during the time of crisis. She never intended to be the CEO of Xerox and startled as everybody else because she felt she was never groomed to be the CEO.She spent most years at Xerox in sales and felt she didn't have a financial background, and right after she was appointed the stocks dropped 15 percent. She was the classic example of an accidental CEO and she proved that it was the best thing to happen to Xerox at that time.
Early life:
Born in 1952, Anne is the only girl child in the family and she was raised in the same way her four brothers were. This helped her turn into a strong, determined person who could take things in her stride. Her sound upbringing helped her to cross each hurdle life threw at her with ease and tactfulness. She completed her primary education in a catholic school and went on to do her degree in English and Journalism at Marymount College in 1974. She joined Xerox in 1976 as a field sales representative.
Career:
She went on to become the first woman CEO of Xerox in 2001 and its first female chairman in 2002. When Anne was made the CEO the company was more than $17 billionin debt and had recorded losses for the preceding six years.  She had a mammoth task ahead of her which made her take some bold decisions, one being slashing down 25,000 jobs and selling $2.3 billion worth noncore assets to reduce Xerox's debt but she did not cut back a single dollar from research and development. To top it all Xerox found itself in the middle of an investigation by Securities and Exchange Commission for an accounting scandal in Mexico unit.
Anne then followed the advice of billionaire investor Warren Buffet to pay attention to the customers. When the media had almost written it off as a dead company, Mulcahy brought back in track within a short span. She was fiercely loyal to Xerox and travelled first 90 days of becoming a CEO to various offices to understand what was wrong with Xerox. She gave a lot of time in listening to customers and employees and that paid off. She brought back confidence in her employees and instilled a level of optimism in them to bring life to her vision. By 2004, Xerox returned to profitability and it experienced growth which it did not witnessed in its heydays.
Whenever an earthquake or tsunami takes thousands of innocent lives, a shocked world talks of little else. - Anne M. Mulcahy
Anne retired from CEO of Xerox in 2009. She now serves as a member of board of directors of Catalyst, Target Corporation, Johnson & Johnson, Citibank Inc and Fuji Xerox. She is also chair of the board of trustees for save the children.
Awards:
2008 - CEO of the Year