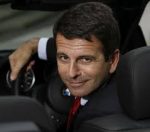 Long Business Description
André Lacroix (born 1960) is a French businessman who, from 16 May 2015, is chief executive of the FTSE 100 multinational company Intertek Group plc.
From 1 January 2006 to 31 March 2015 Lacroix was the Group Chief Executive of Inchcape plc, a British multinational automotive retail and services company.Until 20 May 2005, Lacroix was chairman and CEO of Euro Disney SCA, the company that owns and operates Disneyland Paris in Marne-la-Vallee, France. He was Chairman and Chief Executive Officer of Euro Disney S.C.A. from mid-2003 to mid-2005 and President of Burger King International from mid-2000 to mid-2003.
Lacroix is currently Chairman of Good Restaurants AG.
André Lacroix is a graduate of ESCP Europe.