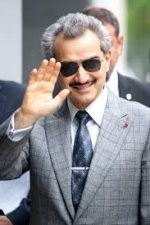 Long Business Description
Al-Waleed Bin Talal bin Abdulaziz al Saud ( born 7 March 1955) is a Saudi business magnate, investor, and philanthropist. He is a member of the Saudi royal family.
Waleed was listed as one of Time magazine's Time 100, an annual list of the hundred most influential people in the world in 2008. Waleed is a nephew of the late Saudi King Abdullah, a grandson of Ibn Saud, the first Saudi king, and a grandson of Riad Al Solh, Lebanon's first Prime Minister.
Al-Waleed is the founder, the chief executive officer and 95 percent-owner of the Kingdom Holding Company, a Forbes Global 2000 company with investments in companies within various sectors such as financial services, tourism and hospitality, mass media, entertainment, retail, agriculture, petrochemicals, aviation, technology, and real estate.The company has a market capitalization of over $18 billion in 2013.Waleed is also Citigroup's largest individual shareholder, the second-largest voting shareholder in 21st Century Fox, and owns Paris' Four Seasons Hotel George V and part of the Plaza Hotel.His business acumen and shrewd entrepreneurial prowess have earned him comparisons to American investor and business magnate Warren Buffett. Due to his prominence as a businessman, he was acknowledged by Time, who labeled the Prince as the "Arabian Warren Buffett".In March 2016 Forbes listed Al-Waleed as the 41st richest man in the world, with an estimated net worth of US$17.3 billion.
In 2015 Al-Waleed announced that he would donate his entire fortune to charity at an unspecified date. Some of the reasons cited were fostering cultural understanding and empowering women.
Philanthropy:
Beyond business, Al-Waleed is an active philanthropist. Much of Al-Waleed's charitable activities are in the field of educational initiatives to bridge gaps between Western and Islamic communities. Over the years, he has funded a number of centers of American studies in universities in the Middle East and centers of Islamic studies in Western universities, which has caused Campus Watch and Jewish American interest groups to question the centers' academic autonomy.
On July 1, 2015, Prince Alwaleed held a press conference in which he announced his intention to donate $32 billion to philanthropic causes. He said that the funds will be used for humanitarian projects such as the empowerment of women and youth, as well as disaster relief, disease eradication and building bridges of understanding across cultures.
Controversial donation after the 11 September attacks:
Immediately after the September 11 attacks, Al-Waleed gave a cheque for $10 million to New York City Mayor Rudy Giuliani over-riding opposition in the Kingdom. He publicized a written statement upon his donation, stating, "At times like this, we must address some of the issues that led to such a criminal attack. I believe the government of the United States of America should re-examine its policies in the Middle East and adopt a more balanced stance toward the Palestinian cause." As a result of his statement, Giuliani returned the cheque.
Al-Waleed spoke to a Saudi weekly magazine regarding the rejection of his cheque by the mayor: "The whole issue is that I spoke about their position [on the Middle East conflict] and they didn't like it because there are Jewish pressures and they are afraid of them."
Palestinians:
In 2002, Al-Waleed donated £18.5 million to the families of Palestinians during a TV telethon following Israeli operations in the West Bank city of Jenin. The telethon was ordered by Saudi King Fahd to help relatives of Palestinians.
Phillips Academy:
In 2002, Al-Waleed donated $500,000 to help fund the George Herbert Walker Bush Scholarship at Phillips Academy in Andover, Massachusetts.
2004 Indian Ocean earthquake:
In 2004, Al-Waleed contributed $17 million to victims of the 2004 Indian Ocean earthquake and tsunami.
Western Universities:
On 8 May 2008, Al-Waleed gave £16 million to Edinburgh University to fund the "centre for the study of Islam in the contemporary world." An active center at the American University of Beirut is also established by a fund from Prince Al-Waleed, namely: The Prince Alwaleed Bin Talal Bin Abdulaziz Alsaud Center for American Studies and Research (CASAR). The Institute for Computational Biomedicine at Weill Cornell Medical College is named for Al-Waleed.The Centre of Islamic Studies at the University of Cambridge also bears the name of Al-Waleed,as does the Islamic Studies Program at Harvard University.
First Saudi female pilot:
Al-Waleed is considered a proponent for female emancipation in the Saudi world. He has financed the training of Hanadi Zakaria al-Hindi to become the first Saudi woman commercial airline pilot and has stated on her graduation that he is "in full support of Saudi ladies working in all fields". Al-Hindi became certified to fly within Saudi Arabia in 2014.