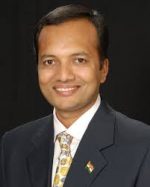 Long Business Description
Naveen Jindal (born 9 March 1970) is an Indian industrialist,and a former Member of Parliament (MP) from Kurukshetra, Haryana.  He is the Chairman of Jindal Steel and Power Limited, a part of the $17 billion diversified O.P. Jindal Group founded by his father. He represented Kurukshetra in the northern Indian state of Haryana in the 14th and 15th Lok Sabha.
He is an active campaigner for population stabilisation, women's empowerment, environmental conservation, health and education. As an acknowledgement of Jindal's support to his alma mater, the University of Texas at Dallas renamed its School of Management the Naveen Jindal School of Management in 2011. Along with his wife noted danceuse Shallu Jindal – he founded the Flag Foundation of India, which is their effort to foster among Indian youth respect for the Tiranga and the values it embodies.
Business:
Naveen Jindal is the Chairman of Jindal Steel and Power Limited (JSPL). With an annual turnover of over US $3.5 billion, JSPL is part of the US$18 billion diversified O.P. Jindal Group. JSPL (earlier known as Jindal Strips Limited) was a moderately performing enterprise when Naveen Jindal first took over its Raigarh and Raipur operations in 1993. Today, JSPL operates the world's largest coal-based sponge iron manufacturing plant in Raigarh, Chhattisgarh, and plants in Jharkhand and Odisha. The company has set up captive power plants using waste products from the sponge iron making process to generate power.
Naveen Jindal is the Chairman of Jindal Power Limited (a subsidiary of JSPL) which runs the 1,000 MW O.P. Jindal Thermal Power Plant in Raigarh, Chhattisgarh – India's first such 1,000 MW plant in the private sector.
Naveen Jindal topped the executive pay charts for listed companies in India with a package of Rs 734.2 million for the last fiscal 2011–12, which grew by over Rs six crore from previous year.
Honours and awards-
Individual:
Jindal has been conferred with the Justice P.N. Bhagwati Award in recognition of his outstanding contribution to legal education and corporate philanthropy. Instituted by the Capital Foundation, the award was presented by Dr. A.P.J. Abdul Kalam, former President of India, December 2011
University of Texas at Dallas, renamed its School of Management after Naveen Jindal in 2011. It is now called the Naveen Jindal School of Management.
Ernst and Young Entrepreneur of the Year award in the field of Energy and Infrastructure, 2010
International:
Gold medal in the team skeet event for India at the Singapore Open Shooting Championship, 2007
  Silver medal in the team skeet event at the 9th South Asian Federation Games, Islamabad, Pakistan, 2004
Bronze in the team event at the Singapore Shooting Invitation, 2003
Silver in the team event at the Singapore Shooting Invitation, 2002
National:
Gold medal in individual skeet event at the 5th Sardar Sajjan Singh Memorial Master Shooting Competition, Jaipur, 2007
Gold medal in the team skeet shooting event at the 49th National Shooting Championship, Hyderabad, Andhra Pradesh, 2005
Gold medal in team skeet shooting at the 48th National Shooting Championship, New Delhi, 2004
Gold medal in the individual category (with a championship record) at the National Shooting Championship, Hyderabad, Andhra Pradesh, 2003
Gold medal (with a new national record) in the team event at the 47th National Shooting Championship, Hyderabad, Andhra Pradesh, 2003
Gold medal in the team skeet event (with a new Games record) at the 32nd National Games, Hyderabad, Andhra Pradesh, 2002
Gold medal in the team skeet event (with a new national record) at the 46th National Shooting Championship, New Delhi, 2002
Gold medal in the team skeet event at the 45th National Shooting Championship, New Delhi, 2002
Silver medal in skeet shooting at the 33rd National Games, Guwahati, Assam, 2007
 Silver medal in the individual category (with a new national record) in the 300-meter big bore prone position at the 50th National Shooting Championship, Indore, Madhya Pradesh, 2007
 Silver medal in the team event at the 50th National Shooting Championship, Indore, Madhya Pradesh, 2007
 Silver medal at the 50th National Shooting Championship, New Delhi, 2006
 Silver medal in the individual category (with a new national record) in the 300-meter big bore prone position at the 48th National Shooting Championship, Indore, Madhya Pradesh, 2004
Silver medal in the team event at the 48th National Shooting Championship, Indore, Madhya Pradesh, 2004
Silver medal in the individual event (with a new Games record) at the 32nd National Games, Hyderabad, Andhra Pradesh, 2002
Silver medal in the team skeet event at the 19th National Games, Mohali, Punjab, 2001
  Bronze medal for Haryana in the team event at the 52nd Big Bore Shooting Championship, Mhow, Madhya Pradesh, 2008
Bronze medal in the individual event at the 45th National Shooting Championship, New Delhi, 2002