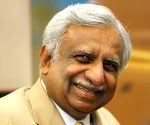 Long Business Description
Naresh Goyal is an Indian businessman and founder Chairman of Jet Airways. He started operating Jet Airways in 1993. Following the 2005 IPO of Jet Airways, Forbes magazine declared him the sixteenth richest person in India with a net worth of $1.9 billion.
Early life
Naresh Goyal was born in Sangrur - Punjab, northern India in 1949 in the house of a jewellery dealer. His father died when he was a child. He studied up to sixth standard at Govt. Raj High School for Boys. When he was eleven years old, his family went through an economic crisis and his house was auctioned. He then lived with his mother's uncle. Goyal holds a Bachelors of Commerce degree.
Career
In 1967, He began his career as a cashier in his maternal uncle Seth Charan Das Ram Lal's travel agency, East West Agencies, at a starting salary of Rs 300 a month. After graduating in Commerce, Mr. Goyal joined the travel business with the GSA for Lebanese International Airlines.
From 1967 to 1974, he underwent extensive training in all facets of the travel business through his association with several foreign airlines. He also travelled overseas extensively on business during this period.
In 1969, He was appointed the public relation manager of Iraqi Airways and from 1971 to 1974 was the regional manager for ALIA, Royal Jordanian Airlines.Meanwhile, he also worked with the Indian offices of Middle Eastern Airline (MEA) where he gained experience in various areas including ticketing, reservations and sales in 1974, with £500 from his mother, he set up his own agency named Jetair, representing the likes of Air France, Austrian Airlines and Cathay Pacific.
In 1975, he was appointed regional manager of Philippine Airline in India.
Awards
Entrepreneur of the Year Award for Services' from Ernst & Young (September 2000)
Distinguished Alumni Award-2000' for meritorious and distinguished performance as an Entrepreneur   (October 2000)
Outstanding Asian-Indian' award for leadership and contribution to the global community given by the Indian American Centre for Political Awareness      (November 2003)
Aerospace Laurels' for outstanding contribution in the field of Commercial Air Transport             (April 2000 and February 2004)
The first BML Munjal Award for Excellence in Learning & Development in the Private Sector category   (January 6, 2006)
NDTV Profit Business Award 2006      (July 28, 2006)
Accorded the prestigious TATA AIG – Lifetime Achievement Award            (8 September 2007)
Travel Entrepreneur of the Year" award at the 19th annual TTG (Travel Trade Gazette) Travel Awards   (25 October 2007)
"Man of the Year Award" by the Aviation Press Club (APC) (April 9, 2008)
Business Person of the Year award by UK Trade & Investment at the prestigious India Business Awards 2008            ( September 9, 2008)
CNBC TV18 India Business Leader Awards     (January 22, 2009)
"International Entrepreneurs of the Year" by the readers of Asian Voice   (February 27, 2009)
Lifetime Achievement Award of the Year by the Travel Agents Association of India (TAAI)            (August 2010)
'Hall of Fame' honor from Hotel Investment Forum of India 2011   (January 2011)
Belgium conferred the "Commandeur of the Order of Leopold II", one of the country's highest civilian distinctions            ( November 2011)
Amity Leadership Award for Business Excellence      (October 2012)