Micky Jagtiani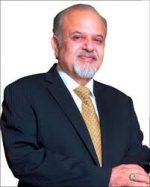 Born       :    August 15, 1952 (age 63), Kuwait
Net worth  :    5.5 billion USD (2015) Forbes
Spouse       :    Renuka Jagtiani
Children   :    Rahul Jagtiani, Nisha Jagtiani, Arti Jagtiani
Mukesh "Micky" Jagtiani (born 15 August 1952) is an Indian entrepreneur, based in the UAE, owner of the Dubai-based Landmark retail stores group.
Career:
His first company was a family company diversified into leisure, food, hotels and electronics and its own logistics and distribution, today it employs around 45000+ people and has more than 1000 stores across the Gulf, Middle East and India.
He is a college dropout, drove a taxi in London before moving to Bahrain and taking over his deceased family's baby products shop. Over the years his Landmark Group moved to Dubai and expanded into fashion, electronics, furniture and budget hotels in Middle East and Southeast Asia.
In 2008, Jagtiani now a billionaire mall developer and the chairman, Landmark International, Dubai-based retail group, bought a 6% stake in the UK high-street retailer Debenhams, and entered the Forbes list of billionaires,and the 16th richest Indian with a net worth of USD 2 billion. Micky Jagtiani a billionaire expanding his business empire from the Gulf to China.
In April 2015, he was ranked 291 in the Forbes list of world billionaires, with a net worth of US$5.0 billion.
Philanthropy:
In 2000, he established LIFE (Landmark International Foundation of Empowerment), to support underprivileged children in India, through school and healthcare development programmes, homes for destitute children, vocational and non-formal schools, community clinics and medical camps for slum-dwellers and an old age home Chennai.
Personal life:
He is married to Renuka who oversees Splash, his company's fashion line, and they have two daughters and one son.