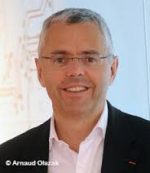 Long Business Description
Michel Combes (born March 29, 1962) is a French businessman and the current CEO of French telecommunications company SFR.
Early life:
He attended the Lycée Louis-le-Grand in Paris, then graduated from École Polytechnique in 1983,Télécom ParisTech, Paris Dauphine University and Conservatoire national des arts et métiers (Cnam).
Career:
After several jobs in ministries, at France Télécom and at TDF, he was CEO of Vodafone Europe from 2008 to 2012.
On February 22, 2013, the Alcatel-Lucent board of directors appointed Michel Combes as the company's CEO, succeeding Ben Verwaayen (effective April 1).On June 19, 2013, Combes announced plans to focus Alcatel-Lucent's operations on networking products and high-speed broadband in order to cut costs by 1 billion euros by 2015.