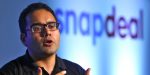 Long Business Description
Kunal Bahl is an Indian entrepreneur, co founder and CEO of the e-commerce platform Snapdeal.
Early life:
Kunal was born in India and had completed his initial school education at [[Delhi Public School Society| (DPS) Delhi. On his consecutive failure to get admission at Indian Institute of Technology (IIT), Kunal went to USA and got his bachelor's degree in engineering from University of Pennsylvania. Kunal received his business degree from the Wharton School and finished an executive marketing program from Kellogg School of Management. While studying in the US Kunal started a detergent company and worked to sell his product at Walmart stores. Kunal had worked with Microsoft for a short period as he was deported from USA to India due to some visa issue in 2008.
Snapdeal
Kunal cofounded Snapdeal along with his school friend Rohit Bansal on 4 February 2010.
Awards & Recognitions:
1. BMA Entrepreneur of the Year 2014
2. ET Top 50 Entrepreneur of India 2014
3. Ranked 25 on Fortune 40 under 40 most influential business leaders list 2014
4. EY Entrepreneur of the year - Startup 2014
5. Nasscom NextGen Entrepreneur 2014
6. AIMA Transformational Business Leader of the Year
7. Indian Affairs Business Leader of the Year 2015