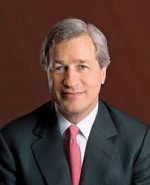 Long Business Description
James "Jamie" Dimon ( born March 13, 1956) is an American business executive. He is chairman, president and chief executive officer of JPMorgan Chase, largest of the Big Four American banks, and previously served on the Board of Directors of the Federal Reserve Bank of New York. Dimon was named to Time magazine's 2006, 2008, 2009, and 2011 lists of the world's 100 most influential people. He was also named to Institutional Investor's Best CEOs list in the All-America Executive Team Survey from 2008 through 2011.
He received a $23 million pay package for fiscal year 2011, more than any other bank CEO in the United States. Dimon received $20 million in compensation for his work in fiscal year 2013.
In the case of the 2012 JPMorgan Chase trading loss, according to a US Senate report published in March 2013 after 9 months of investigation, Dimon misled investors and regulators in April as losses rose dangerously to $6.2 billion on a "monstrous" derivatives bet made by the so-called "London Whale" Bruno Iksil.
Career:
In a power struggle, Weill left American Express in 1985 and Dimon followed him. The two then took over Commercial Credit, a consumer finance company, from Control Data. Dimon served as the chief financial officer, helping to turn the company around. Through a series of unprecedented mergers and acquisitions, in 1998 Dimon and Weill were able to form the largest financial services conglomerate the world had ever seen, Citigroup. Dimon left Citigroup in November 1998, after being asked to resign by Weill during a weekend executive retreat.It was rumored at the time that he and Weill argued in 1997 over Dimon's not promoting Weill's daughter, Jessica M. Bibliowicz, although that happened over a year before Dimon's departure. At least one other account cites a request by Dimon to be treated as an equal as the real reason. In his 2005 University of Chicago Graduate School of Business Fireside Chat and 2006 Kellogg School of Management interviews, Dimon confirmed that Weill fired him.
In March 2000, Dimon became CEO of Bank One, the nation's fifth largest bank.When JPMorgan Chase purchased Bank One in July 2004, Dimon became president and chief operating officer of the combined company.
On December 31, 2005, he was named chief executive officer of JPMorgan Chase and on December 31, 2006, he was named chairman of the board.
In March 2008 he was a Class A board member of the Federal Reserve Bank of New York.
Under Dimon's leadership, with the acquisitions during his tenure, JPMorgan Chase has become the leading U.S. bank in domestic assets under management, market capitalization value, and publicly traded stock value. JPMorgan Chase is also the No. 1 credit card provider in the U.S.
In 2009, Dimon was considered one of "The TopGun CEOs" by Brendan Wood International, an advisory agency.
On September 26, 2011, Dimon was involved in a high-profile heated exchange with Mark Carney, the governor of the Bank of Canada, in which Dimon said provisions of the Basel III international financial regulations discriminate against U.S. banks and are "anti-American".
On May 10, 2012, JPMorgan Chase initiated an emergency conference call to report a loss of at least $2 billion in trades that Dimon said were "designed to hedge the bank's overall credit risks". The strategy was, in Dimon's words, "flawed, complex, poorly reviewed, poorly executed, and poorly monitored".The episode is being investigated by the Federal Reserve, the SEC, and the FBI.
Dimon commented on the Volcker Rule in January 2012, "Part of the Volcker Rule I agreed with, which is no prop trading. But market making is an essential function. And the public should recognize that we have the widest, the deepest, the most transparent capital markets in the world. And part of that is because we have enormous market making. If the rules were written as they originally came out; I suspect they'll be changed, it would really make it hard to be a market maker in the United States."
He served as Chairman of the Executive Committee of The Business Council for 2011 and 2012.
In October 2013, it was reported that Dimon had given up his role as chairman of JP Morgan's main banking business to be succeeded by former Johnson & Johnson chief executive William Weldon. Dimon retained his roles as chairman and CEO of the parent company.
On January 24, 2014 it was announced that Dimon would receive $20 million for his work in 2013, a year of record profits and stock price under Dimon's reign, despite significant losses that year due to scandals and payments of fines. The award was a 74% raise, which included over $18 million in restricted stock. Forbes reported that, in a statement following news of Dimon's compensation, the bank said, "Under Mr. Dimon's stewardship, the Company has fortified its control infrastructure and processes and strengthened each of its key businesses while continuing to focus on strengthening the Company's leadership capabilities across all levels.