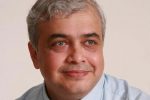 Long Business Description
Deepak Ghaisas is the chairman of Gencoval Strategic Services Pvt Ltd. Previously he was the CEO - India Operations and CFO of I-flex Solutions Ltd., India. He has worked in the software industry since 1987.
In 1993, Ghaisas joined as the CFO of I-flex Solutions Ltd., India for its global operations. In 1997, he added the role of the CEO (India Operations), while retaining the CFO position.
He was the recipient of the CFO Asia Award in 2001, the first Indian to win the award.[citation needed]
He has been involved in the software industry in a number of roles, including:
Executive Member of the NASSCOM Executive Council
Vice President of the Maharashtra Economic Development Corporation (MEDC), a governing body who actively participates in the decision-making process for the economic development of the State of Maharashtra, India.
Member of CII Executive Council for Western India
Committee Member of Indian Institute of Banking & Finance constituted for the purpose of drafting the curriculum for Information System Audit course for bankers.[citation needed]
Member of the Internet Banking Committee of the Reserve Bank of India, which formulated guidelines on Internet banking and security in India.[citation needed]
Deepak resigned from i-flex on August 8, 2008, just before it was renamed as Oracle Financial Services Ltd.