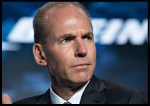 Long Business Description
David L. Calhoun (conceived April 18, 1957 in Philadelphia, Pennsylvania. He experienced childhood in Allentown, Pennsylvania, where he moved on from Parkland High School in 1975. is an American money manager, and president and CEO of The Boeing Company since January 2020. He was formerly Boeing's chairman. He was designated after the then CEO, Dennis Muilenburg, ventured down in the midst of security issues in regards to the 737 MAX after two lethal accidents that killed 346 travelers and group ready.
He was in secondary school, Calhoun was one of three commanders of the varsity ball group and he played golf. In 1979, he moved on from Virginia Tech with a degree in bookkeeping. In 2018, Calhoun gave $20 million to Virginia Tech.
After Calhoun moved on from school, he acquired work at General Electric (GE). He chose to work for GE around then, because of its nearness to where he lived in Lehigh Valley.[citation needed] He worked at GE for a very long time, supervising transportation, airplane motors, reinsurance, lighting and other GE units, before eventually being named as bad habit administrator of the organization and an individual from GE's Board of Directors in 2005.
Calhoun left GE to join secretly held worldwide data benefits firm VNU as CEO in 2006. Under his initiative the organization rebranded itself as Nielsen Holdings, gotten back to the public business sectors in 2011, and was added to the S&P 500 Index in 2013.[citation needed] In 2014, Calhoun became chief executive of Nielsen, and furthermore joined The Blackstone Group as a senior overseeing chief and head of portfolio tasks and an individual from Blackstone's administration board of trustees. Blackstone had been one of six private value firms that supported Nielsen's transformation.[citation needed] During his profession, Calhoun was on the governing body of Caterpillar, Gates Corporation, and Medtronic.
Since 2009, Calhoun has filled in as a chief at Boeing, and was named lead free chief in 2018. In October 2019, he was named executive of Boeing in the wake of the Boeing 737 MAX groundings, and on December 23, 2019, he ventured down as director in anticipation of turning into Boeing's CEO and president, powerful January 13, 2020. In 2020, Boeing had a truly downright terrible, as the organization announced a $12 billion misfortune and laid off 30,000 specialists. Simultaneously, Calhoun procured $21.1 million in remuneration.