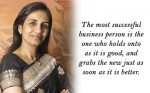 Long Business Description
Chanda Kochhar (born 17 November 1961) is the managing director (MD) and chief executive officer (CEO) of ICICI Bank. She is widely recognised for her role in shaping retail banking in India.
With a firm belief in her heart and living by her own belief that women in any organization can grow just by their merit and not by special favours and privileges due to their gender – Chanda Kochhar has listed herself as one of the 50 most powerful women in business in the Fortune Global 2014 analysis. This Indian lady is world renowned for her corporate leadership and bold decision making skills. She is the current Managing Director and the Chief Executive Officer of the ICICI Bank which is India's largest privatised financial institution. She is the leading example of today's women and her empowerment to make the world a better place to live in.
Being an important persona of the core ICICI team she helped the organisation empower its wings and fly at distant skies. Her vision was far beyond the local level. It was she had the courage to keep working hours of the bank be 12 hours whereas rest all brands worked for 7 hours in a day. She is one of the few bankers who envisioned the idea of2000 ATM machine installations throughout India promoting electronic banking in a large scale.  ICICI bank received the recognition to be the "Best Retail Bank in India" for the years 2001, 2003, 2004 and 2005 under her lead.
Achievements –
Retail Banker of the Year honour by the Asian Banker in the year 2004
Business Woman of the Year recognition by the Economic Times in the year 2005
Rising Star Award by the Retail Banker International in 2006
She was featured in the list of "30 Most Powerful Woman Leaders" in business for eight years continuously.
Transformational Business Leader of the Year by the All India Management Association in the year 2010
Chanda Kochhar was ranked the 10th in position in the list by Fortune of " Most Powerful Women in Business" during 2010
Achieved 92nd rank in Forbes list of "Most Powerful Woman" for 2010.
The CNBC TV 18 awarded her in the year 2010 as the "Outstanding Woman Business Leader of the Year".
Her name got the rank to be the 11th in the Financial Times list for the "Top 50 Woman in World Business
She was awarded the Padma Vibhushan in the year 2011