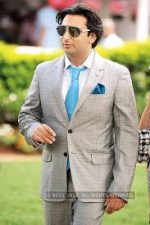 Long Business Description
Born              :         January 14, 1981 (age 35)
Spouse           :         Natasha Poonawala
Parents          :        Cyrus S. Poonawalla
Organization :        Serum Institute of India
Alma mater   :         University of Westminster
Grandparent  :          Soli A. Poonawalla
Adar Poonawalla (born 14 January 1981) is the chief executive officer (CEO) and executive director of Serum Institute of India. Founded in 1966 by his father, Dr. Cyrus Poonawalla, it is the world's largest vaccine manufacturer by number of doses produced and sold.
Career:
Poonawalla joined Serum Institute in 2001 after earning a bachelor's degree in management from the University of Westminster in London. Then exporting its products to 35 countries, Poonawalla concentrated on the company's international market and getting new products licensed and pre-qualified by the World Health Organization for supply to United Nations Agencies includiing UNICEF and PAHO. As of 2015, the company exported its products to over 140 countries. 85 percent of its revenues are from overseas.
In 2011 he became the chief executive of Serum Institute of India with full control of day-to-day operations of the company. In 2012 he played a major role in the acquisition of Bilthoven Biologicals a Netherlands based government vaccine manufacturing company. Poonawalla is a board member of the GAVI Alliance, the global Vaccine Alliance.
He initiated and launched Serum Institute's Oral Polio Vaccine, which went on to become a bestseller for the company. In 2014, it was reported that he planned to expand the product portfolio to include vaccines for dengue, flu and cervical cancer.
In 2013 he hosted Charles, Prince of Wales and The Duchess of Cornwall during a private visit to Serum Institute's manufacturing facility in India.The Serum Institute of India offered to donate five million vaccines to a country of The Prince's choosing.
In 2013, Forbes India named him one of the "Four Scions to Watch Out For."
Adar Poonawalla and Cyrus Poonawalla bid 550 million pounds for the Grosvenor House Hotel in London in July 2014.
Poonawalla group to invest Rs 100 crore for clean Pune initiative