Steve Easterbrook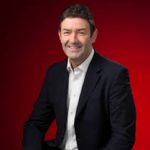 Stephen James Easterbrook (born August 1967) is a British corporate executive.On 1 March 2015, after being chief brand officer of McDonald's and its former head in the UK and northern Europe, he became the CEO of the company, succeeding Don Thompson, who stepped down on 28 January 2015.
Early life:
Stephen James Easterbrook was born in August 1967. He grew up in Watfordand was educated there at Watford Grammar School for Boys.He studied natural sciences at St Chad's College, Durham University, where he played cricket with fellow student, Nasser Hussain, the former England cricket captain.
Career:
After university, he trained as an accountant with Price Waterhouse.Easterbrook first worked for McDonald's in 1993 as a manager in London. In 2011 he left to become CEO of PizzaExpress and then CEO of Wagamama, two British casual dining chains, before returning to McDonald's in 2013.
Personal life:
He is married with three children, who visit McDonald's 113 times a month.He lives in Illinois and is a Watford FC football fan.