CEO of SingTel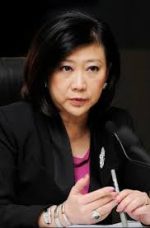 Chua Sock Koong (born 1957) is the Group Chief Executive Officer (CEO) of SingTel. She was the company's Deputy Group CEO and Chief Financial Officer (CFO), a position she assumed in February 2006, before she took over Lee Hsien Yang's CEO post in April 2007.
Previously as a CFO, Chua was responsible for all financial functions at SingTel, including treasury and risk management. Her assumption of this role was covered by Business Times (Singapore), which applauded her broad exposure across all areas of the business," and noted her "significant role in SingTel's major acquisitions, divestments and partnerships."
Achievements & Awards:
Fortune Magazine named her in their 2011 list of the Most Powerful Woman Leaders in Business. In 2012, she was named one of Forbes Asia's "Women in the Mix" for 2013.
In 2014 Fortune Magazine rated here as 74th out of the 100 most powerful woman leaders in the world.
Criticism:
Anti-Net Neutrality:
The debate on Net neutrality in India started after Airtel, the national division of Bharti Airtel, a mobile telephony service provider in India (32.15% owned by Singtel), announced in December 2014 to charge additional rates for making voice calls (VoIP) from its network using apps like WhatsApp, Skype, etc.
Chua said in March 2014, she "urged regulators to give carriers like Optus the right to charge rivals such as WhatsApp and Skype for use of their networks or risk a major decline in network investment".
This resulted in a warning on 7 March 2014 by the Infocomm Development Authority of Singapore (IDA).
She repeated her message on 22 January 2015. In addition to her statement from last year about their rivals Singtel released their own WhatsApp and Skype competitor app which called "Wavee".
Ad campaign:
Chua Sock Koong apologised for the Smear Campaign against M1 and Starhub and Singtel received a 'stern warning' from the Infocomm Development Authority of Singapore.