CEO of Qantas Airways Limited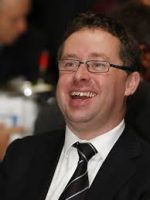 Alan Joseph Joyce, FRAeS (born 30 June 1966) is an Irish-born Australian businessman. He is the Chief Executive Officer (CEO) of the Australian airline Qantas Airways Limited.
Early life and education:
Joyce was born and raised in Tallaght, now a suburb of Dublin, but a separate village at the time of his birth. His mother was a cleaner and his father worked in a tobacco factory. Joyce and his three siblings attended university.
Joyce attended Dublin Institute of Technology and Trinity College, Dublin. He graduated with Honours, receiving a Bachelor of Science degree in Applied Science (Physics and Mathematics) and a Master of Science degree in Management Science. He is a Fellow of the Royal Aeronautical Society.
Career:
Joyce worked at Aer Lingus, the flag carrier of Ireland for eight years, where he held a wide spectrum of positions in sales, marketing, information technology, network planning, operations research, revenue management and fleet planning. In 1996, he left Aer Lingus to join the now-defunct Ansett Australia.
Then in 2000 he joined Qantas. At both Ansett Australia and Qantas, Joyce headed the Network Planning, Schedules Planning and Network Strategy functions. Joyce was appointed CEO of Qantas subsidiary Jetstar Airways in October 2003.
Joyce became CEO of Qantas on 28 November 2008. He is a former Director of Orangestar Investment Holdings Pte Limited (holding company of Singapore-based Jetstar Asia Airways and Valuair) and Jetstar Pacific Airlines Aviation Joint Stock Company (in Vietnam). On 29 October 2011, as a result of continuing industrial unrest following the announcement of job losses and structural changes at Qantas, Joyce grounded the entire Qantas mainline fleet.
The Australian named Joyce the most influential business leader in 2011. Yet a poll following his controversial 2011 grounding of the Qantas fleet showed the action has increased negative public perception of the airline. In 2011, Joyce's remuneration was increased 71 per cent from $2.92 million in 2009-10 to $5.01 million and he was granted 1.7 million Qantas shares under a long-term incentive plan. His reported comments that his salary was "conservative" were criticised by the Australian and International Pilots Association (AIPA).
Joyce is an Ambassador of the Australian Indigenous Education Foundation.
Personal life:
Joyce is openly gay and lives in the inner-Sydney suburb of The Rocks with his partner, a New Zealand man with whom Joyce has been in a relationship since 1999. In 2011, Joyce was successfully treated for prostate cancer.