Masayoshi Son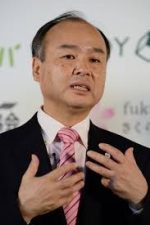 Masayoshi Son (born August 11, 1957) is a Japanese businessman and the founder and current chief executive officer of SoftBank, the chief executive officer of SoftBank Mobile, and current chairman of Sprint Corporation. According to Forbes magazine, Son's estimated net worth is US $17 billion and he is the second-richest man in Japan, despite having the distinction of losing the most money in history (approximately $70 billion during the dot com crash of 2000). Forbes also describes him as a philanthropist.
Son was named the world's 45th most powerful person by Forbes Magazine's List of The World's Most Powerful People in 2013.
Background
Of Korean ethnicity, Son's family adopted the Japanese surname Yasumoto in daily life and Son used this surname as a child. Son pursued his interests in business by securing a meeting with Japan McDonald's president Den Fujita. Taking his advice, Son began studying English and computer science.
At age 16, Son moved to California and finished high school while staying with friends and family in South San Francisco. After spending two years at Holy Names University, he transferred to the University of California, Berkeley, in which he majored in economics and studied computer science. Enamored by a microchip featured in a magazine, Son at age 19 became confident that computer technology would ignite the next commercial revolution.
Convinced that anything related to microchips could yield a fortune, Son decided to produce at least one entrepreneurial idea a day. He patented a translating device that he eventually sold to Sharp Electronics for $1 million. Applications of the patent include the Wizard series of Sharp PDAs.
Son graduated from Berkeley with a BA in economics in 1980, and started Unison in Oakland, California, which has since been bought by Kyocera. In 1990, Son Masayoshi adopted Japanese citizenship.
Yahoo! BB:
Although SoftBank's stake in Yahoo! had dwindled to 7%, Son established Yahoo! BroadBand in September 2001 with Yahoo! Japan in which he still owned a controlling interest. After a severe devaluation of SoftBank's equity, Son was forced to focus his attention on Yahoo! BB and BB Phone. So far, SoftBank has accumulated about $1.3 billion in debt. Yet, Yahoo! BB acquired Japan Telecom, the then third largest broadband and landline provider with 600,000 residential and 170,000 commercial subscribers. Yahoo! BB is now Japan's leading broadband provider.
Vodafone K. K.:
On March 17, 2006, Vodafone Group announced it had agreed to sell Vodafone K.K. to SoftBank for approximately 1.75 trillion Japanese yen (approximately US$ 15.1 billion). On April 14, 2006, SoftBank and Vodafone K. K. jointly announced, that the brand and company name Vodafone will be changed to a "new, easy-to-understand and familiar company name and brand". Masayoshi Son is the CEO (Representative Director) of Vodafone K. K.
Sprint Corporation:
Through SoftBank Masayoshi Son bought 76% in Sprint. SoftBank has further accumulated shares in Sprint (S); to about 80% ownership.
Investment in Solar Power:
In response to the Fukushima Daiichi nuclear disaster in 2011, Masayoshi Son criticized the nuclear industry for creating "the problem that worries Japanese the most today", and engaged in investing in a nationwide solar power network for Japan.
Philanthropy:
In 2011 Masayoshi Son pledged to donate 10 billion yen ($120 million) and his remaining salary until retirement to help support victims of 2011 Tōhoku earthquake and tsunami.