natasha mudhar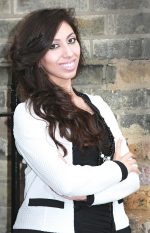 Natasha Mudhar is the CEO and Managing Director of Sterling Media, London. Raised in London, Natasha Mudhar graduated from City University in Sociology and Media. Her mother, Teji Singh founded Sterling Media in the year 1995 in London.
Around the time Natasha started at Sterling, marketing Indian cinema to the global diaspora began picking up pace and Natasha's mother started it in the United Kingdom. Sterling Media is credited as one of the first communication agencies to have given taken Indian cinema a global platform.
Natasha remembers that breaking into the market wasn't easy. With her persistent hard work, drive for innovative strategies and an incredible team in place, the industry accepted her and Natasha says they have managed to give the company a global position in the market.
Natasha, apart from focusing on Sterling become a global company, also headed a historic UN campaign in India. Natasha picked up most of her skills on the job, and believes there is no substitute to hard work. Her mantra is to challenge the conventional hierarchy. One powerful tip from this entrepreneur, which she herself has closely followed in life, is to never underestimate the power of initiation and innovation.
Her mission is to develop the company into a global business that links corporates, celebrities and governments internationally. In addition to the international work with mainstream brands, she is proud that Sterling is recognized as a pioneer in popularizing the India narrative to a global audience, fostering thought-leadership opportunities across both business as well as cultural links.